The newly elected Bharatiya Janata Party at the Centre has announced the launch of Nal Se Jal (Water From Tap), a poll-promise from its 2019 manifesto, to ensure piped water to every household by 2024. How big is the task?
In India, only 32 percent of households have tap water supply from treated sources, as per Census 2011. About 18 percent or 6,25,000 households in the capital city, Delhi, do not have piped water supply.
Yet, this city has one of the highest percentages of households with piped water among all of India's states and union territories. Only seven of India's states and union territories have tap water supply in over 80 percent households.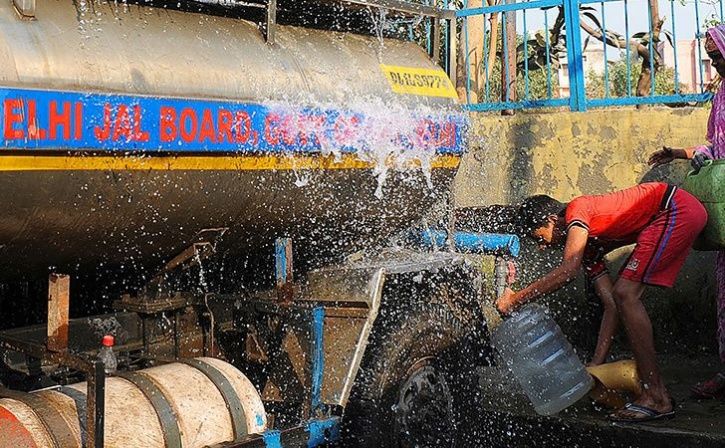 .
"Jab source mein paani nahin hain, toh nal mein jal apna aap thode banega (When the source has no water, how will the tap produce water by itself)," says Rajendra Singh, award-winning water-conservationist whose 35-year stint with four colleagues in arid Rajasthan has made 1,000 villages water sufficient.
In six months from now, by the year 2020, 21 Indian cities, including Delhi, are feared to run out of groundwater. "They've built Akshardham temple and Commonwealth Games Village on Delhi's water bank, so there's no recharge of groundwater," says the conservationist, referring to the Yamuna floodplain, the area surrounding the river that absorbs the most water to recharge groundwater.
Extent of Loss
That's not the only loss of opportunity in recharging groundwater.
A 2014-report by Delhi Parks and Gardens Society states that at least 200 among more than a thousand water bodies in Delhi — lakes, ponds, moats that existed far back in the 20th century — have been encroached upon and lost due to inaction and possible connivance of multiple agencies that owned the land that these water bodies existed on. These include Delhi Development Authority, Block District Officers or BDOs (in Delhi's urban villages), Archaeological Survey of India, Forest department, and municipal corporations (five in Delhi: East, South, North, and New Delhi Municipal Corporations and Delhi Cantonment Board), notes the report.