A training program was organised by ICLEI South Asia on Solid Waste Management under the Global Water Partnership funded project on "Integrated Urban Water Management Planning and Implementation in Ajmer" on the 28th of August.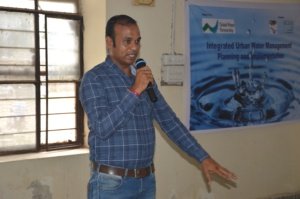 The program was chaired by City Sanitary Officer; Ajmer Municipal Corporation; Mr. Chandresh Sankhla, Councilor Ward-60, District Head for Cleanliness in Ajmer; Dr. Veena Khanduri, Executive Secretary, India Water Partnership (IWP).
The training was attended by 40 participants including municipal sanitary staff, door to door solid waste management teams working under Swachh Bharat Mission (SBM) in Ajmer city, Sanitary Inspectors Municipal Corporation Ajmer, Ms. Ritu Thakur, Manager, ICLEI South Asia and Mr. Rahul Rathi, ICLEI South Asia.
The training program was focused on collection, transportation and disposal methods and techniques for solid waste management in Indian cities.
Mr. Chandresh Sankhla Councilor Ward 60 explained the importance of the door to door solid waste collection and emphasized on the participation of public in the system. He also encouraged the sanitary workers. Dr. Veena Khanduri, Executive Secretary India Water Partnership talked about a sustainable solid waste management system and shared her view on the present scenario of solid waste in Indian cities. The collection, transportation and disposal of the waste in existing scenario was explained to the participants including depicting aerial pictures of the trenching ground of Ajmer.
Ms. Thakur presented the scenario of solid waste management in the country, Municipal Solid Waste Management Rules 2016, importance of baseline assessment and Principals of Waste Management.
Case studies showcasing good practices related to the solid waste management in different cities in India were shared with the stakeholders. Suggestions on affordable techniques and methods were also shared to improve the overall door to door solid waste collection and management in the city.
Ms Ritu Thakur from ICLEI SA and Dr. Khanduri from IWP shared with the stakeholders some good practices and suggestions to manage on ground situation to improve the door to door waste collection and also to segregate the waste.
The initiatives by ICLEI South Asia were appraised by municipal team and support was assured for the project activities.Team from ICLEI SA and IWP ended the training program with a vote of thanks.