A training program was organised by ICLEI South Asia on Solid Waste Management under the Global Water Partnership funded project on "Integrated Urban Water Management Planning and Implementation in Ajmer" on the 28th of August.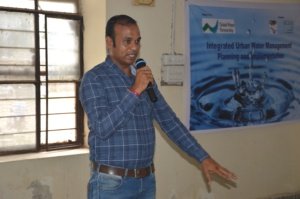 The program was chaired by City Sanitary Officer; Ajmer Municipal Corporation; Mr. Chandresh Sankhla, Councilor Ward-60, District Head for Cleanliness in Ajmer; Dr. Veena Khanduri, Executive Secretary, India Water Partnership (IWP).
The training was attended by 40 participants including municipal sanitary staff, door to door solid waste management teams working under Swachh Bharat Mission (SBM) in Ajmer city, Sanitary Inspectors Municipal Corporation Ajmer, Ms. Ritu Thakur, Manager, ICLEI South Asia and Mr. Rahul Rathi, ICLEI South Asia.